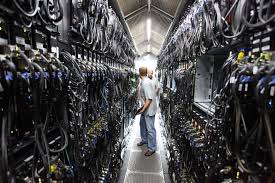 Managed Services
Stop waiting for your technology to break
When something goes wrong with your IT, everything grinds to a halt. With a standard break/fix service contract, you have to wait for something to break before your provider can fix it. That equation seems to make sense – even though it could easily result in hours of downtime. But what if you could keep your IT from breaking in the first place?
You're buried. You've got looming deadlines, projects to manage and new ones to roll out. What you need are some extra hands. Managed IT services are the extra help that will save your day. With managed IT services, you'll be free from necessary, but time-consuming tasks. Tasks like monitoring and managing your IT infrastructure. You'll be free to focus the right people and resources on the right things. Your strategic initiatives will fall into place all while increasing efficiency and productivity.
At Top Technical Solutions, we know not all managed services are created equally. We understand your circumstances are unique to you. We understand that you need more than just extra bodies. You also need knowledge and experience. That's why at Top Technical Solutions, more than 50% of our total staff are engineers. With Top Technical Solutions's managed IT services, you get a turnkey, full-service IT solution that includes the best certified experts in the industry, live 24/7 helpdesk support, SSAE 16 compliant, tested and proven ITIL best practices in IT managed hosting and world-class technology. All of this is wrapped in a high availability service level agreement that financially guarantees your satisfaction.
Our managed IT services remove the hassle of managing your own servers and services. We effectively become an extension of your company's IT department. With Top Technical Solutions, you can leverage the latest technology without having to worry about hardware or any of the headaches associated with maintaining computer systems. This means less overhead and a larger return on your IT investment.
Let Top Technical Solutions help you meet your deadlines, exceed your goals and deliver value back to your team.
With managed services from Top Technical Solutions, you can expect:
Peace of mind –

 

your systems are monitored 24/7
Less downtime –

 

we identify and fix issues before they cause problems
Fewer disruptions –

 

we provide most services remotely or overnight
Predictable budgeting –

 

all-inclusive, all-you-can-use, flat-rate IT services that include hardware and software.
Managed services from Top Technical Solutions provide you with more reliable performance and more predictable expenses. That means you get more value from the technology you've already invested in, while actually reducing the total costs of IT problems and the resulting downtime.
Want to take advantage of a breakthrough alternative to break/fix?
Contact Us
Top Technical Solutions
175 Strafford Avenue, Suite One, 301
Wayne, PA 19087-3396
Phone: 267-536-4300
Toll Free: 877-968-8324
Fax: 267-536-4289